After the cancellation of the original conference in April 2020 due to the COVID-19 pandemic, the 10th international conference of the Historical Sociolinguistics Network (HiSoN)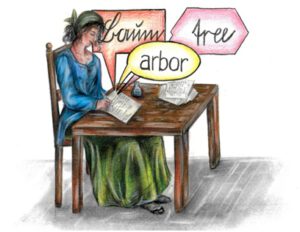 Intra-writer Variation in Historical Sociolinguistics could finally take place as a virtual event on 17–19 March 2021. It was hosted at Friedrich-Alexander University Erlangen-Nürnberg by the junior research group Flexible Writers in Language History (Markus Schiegg, Katharina Gunkler-Frank, Julian Mader, Luzia Pätzel) and the assistant professor of English Linguistics (Judith Huber) in collaboration with the Historical Sociolinguistics Network (HiSoN).
The online format did have its advantages: Instead of originally 80 participants, we now had the pleasure of welcoming about 150 guests from 26 different countries and from many different time zones. The programme included 60 presentations with three keynote speakers: Terttu Nevalainen from Helsinki (The register potential of linguistic change: Individual and group perspectives), Juan M. Hernández-Campoy from Murcia (Intra-speaker variation and descending into the real world of epistolary interaction) and José del Valle from New York (Making voices, making publics: Language history and linguistic memorialization).
The wide range of presentation topics included studies about intra-writer variation both 'from below' and from educated writers. For instance, Lithuanian peasants' complaint letters were illuminated as well as lower-class patient letters from 19th-century psychiatric hospitals and the correspondence at the top of the social hierarchy in 17th-century Germany: the letters of Prince  Ludwig von Anhalt-Köthen. Not only did we focus on individual language use in European languages, but we also heard about writers' choices in Late Babylonian, Arabic, Ottoman Turkish and Mayan. The spectrum of the analysed texts ranged from letters to legal and administrative documents up to logbooks and diaries such as the remarkable collection of Vytautas Civinskis's diaries who used them for writing down his experiences in several different languages as well as for preserving postcards, scribbles and even lime tree leaves from "Unter den Linden".
As various as the sources were, the challenges in analysing them are often similar and so numerous fruitful discussions between colleagues could emerge. After every conference day, we met up on wonder.me to continue our discussions, share our experiences and talk to old and new colleagues and friends. This made us come close to forget we didn't actually meet in real life. Now, we're looking forward to next year's HiSoN conference in Murcia!
Luzia Pätzel